Alcohol Treatment in Sydney
Are You Having Trouble Finding Appropriate Alcohol Treatment in Sydney?
When seeking Alcohol Treatment in Sydney it may seem reasonable to assume that a large metropolitan area like Sydney would have ample services available for those of us dealing with drinking problems. Think again. The reality is there still many who struggle to find appropriate alcohol treatment, and if you fall into this category, your best option may be to look elsewhere for help. Here at Hope Rehab Thailand, the majority of our clients come from Australia because these people have been unable to find the help they need at home.
There are a number of potential reasons for why you may be encountering difficulties while looking for alcohol treatment in Sydney. It is believed that one in four adult Australians drink at a level that puts them at risk of running into serious problems (source: Australian Institute of Health and Welfare). There is a high demand for inpatient residential programs, and the rehabs are struggling to cope – this means unless you can afford to pay a lot of money for a fancy rehab like The Sanctuary, you may have a long wait before you are accepted at a Alcohol Treatment in Sydney.
There are some excellent addiction professionals working in Alcohol Treatment in Sydney Australia but there can be an unfavourable client-to-therapist ratio in many facilities. Rehabs tend to be overcrowded due to the high demand, and this also means recovery resources can be stretched.
Alcohol Treatment in Sydney
You are only going to be staying in Alcohol Treatment in Sydney for a short time (even a 90 day program can feel too short), so it is important that everything you need to begin rebuilding your life is easily available.
Another problem you may face when looking for alcohol treatment in Sydney is finding the right type of program. In order for you to have the best chance of recovery, you need access to appropriate resources. The problem is that there can be an overemphasis on the pharmaceutical/psychiatric model in many rehabilitation programs, and this doesn't work for many of us. Many facilities can also be too 'generalist' (i.e. the 'one size fits all approach' to drugs and alcohol problems), and this means the program may not be specific enough for overcoming your drinking problem.
A message from a Sydney clients
Hi Simon,
Just a quick note to let you know I had a great week in London catching up with rehab buddies.
Met up with some on Wednesday, and then more on Thursday night at Notting Hill for a chat and dinner afterwards. They are both in great form and so good to see them.
Rehab has been great for me. WOOFing in UK was fantastic and so peaceful. All my experiences have given me lots of hope and strength for the future – a future I have no idea what holds for me but am patient enough now to wait for it to unfold without worrying about. I still find it hard to believe the amount of uderstanding you and your team instilled into me. The CBT , the tools of living !! I'm not such an emotional wreck.
Hope you are well and regards to the team. I see some of your travel film blogs re-posted on Facebook. They're great.
6 months this weekend. YAY. And doing everything , on a daily basis, to maintain my recovery. It works, and has become a pleasure!! I ended up seeing so much of Devon and Cornwall where i went for a lovely holiday.
All the best – Michael, Sydney
An Alternative to Alcohol Treatment in Sydney
Alcohol Treatment in Sydney is in Thailand
Going abroad for addiction help is now a viable option for many people who are struggling to find alcohol treatment in Sydney. The fact that Hope Rehab is based in Thailand means our overheads are lower than most western countries – this means we can provide high quality treatment at an affordable price. Most of our therapists trained in the west (we are from countries such as the UK and Australia), and we focus on evidence-based treatments such as CBT, mindfulness therapy, and 12 step work.
Choosing Hope Rehab Thailand as a location to begin your new life may be one of the best decisions you ever make. We offer a suitably therapeutic environment in a tropical setting, and our community is going to provide you with sufficient support as you take your first steps into recovery. Contact us today to find out more.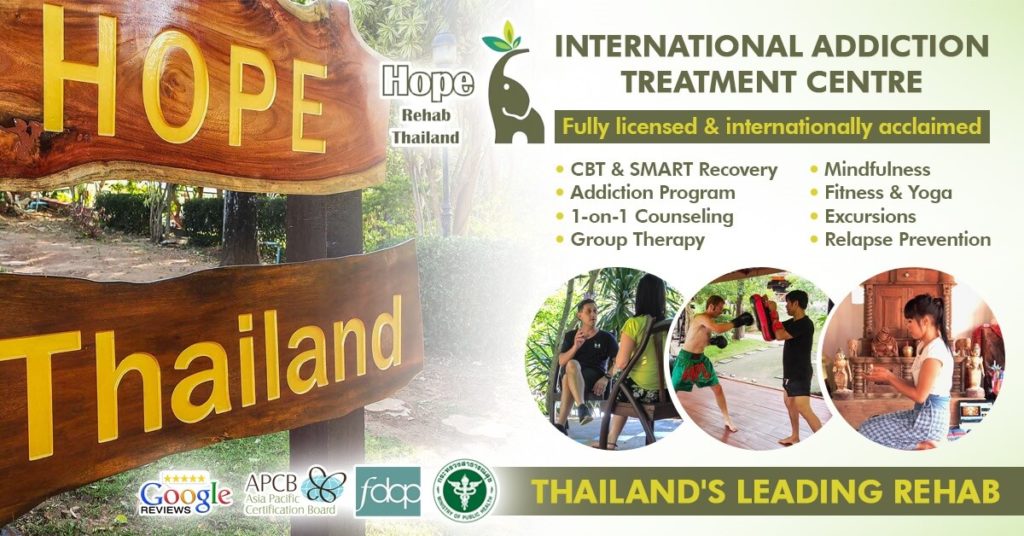 Alcohol Treatment in Sydney by Hope Rehab Thailand