Where is the Best Rehab in the World?
Best Rehab in the World is a tall order. What is the best for you may not be the best for someone else. If you are not able to break free of your addiction, the likelihood is that the future is going to be bleak for you. The medical consensus is that this is a type of disease where there is a deterioration over time. Some days may be better than others, but the overall trend with addiction tends to be downwards. If you want to have a shot at real and lasting happiness in your life, you need to break free of this downward spiral. By choosing the best rehab in the world, you give yourself a much better chance of this happening.
Giving up alcohol and drugs can literally be a matter of life and death. If you required a heart transplant, wouldn't you want this to be done by the most skilled surgeon possible? The same applies to addiction treatment. If you are serious about your recovery, you are going to the help of the best rehab in the world.
I started out to create the best rehab in the world, not to earn money but because its my life – I have personally been a client in many rehabs and worked in many others – it's my life goal – Hope is the result. I believe we are the best or one of the best – Simon Mott
How to Find the Best Rehab in the World
It is tempting for us to just tell you that Hope Rehab Thailand is the only residential program you need to consider, and this will give you the best chance of recovery. The reality is that your needs are going to be unique, and what is best for you may not be the same as for somebody else. Here at Hope Rehab, we do provide a quality evidenced-based program that has already worked for many people. We also focus on individualised care (the exact treatment path you follow is based on an assessment of your needs), and this further increases the likelihood that we will be offering you the resources you need to transform your life.
"My two months in Thailand in treatment working with Simon as my counselor and Alon my Yoga teacher was incredible: a bright star-month of hope, healing, and happiness (an emotion/emotional state that I generally–being an addict– do not authentically feel) against the backdrop of a dark, stormy sky of a drug-addicted life in New York City. I have been to four outpatient centers and three in-patient rehabs here, and the Center in Thailand was so superior in many ways. Not only did it cost much less, the treatment and experience was overwhelmingly more effective and interesting and special" Cat Marnell New York"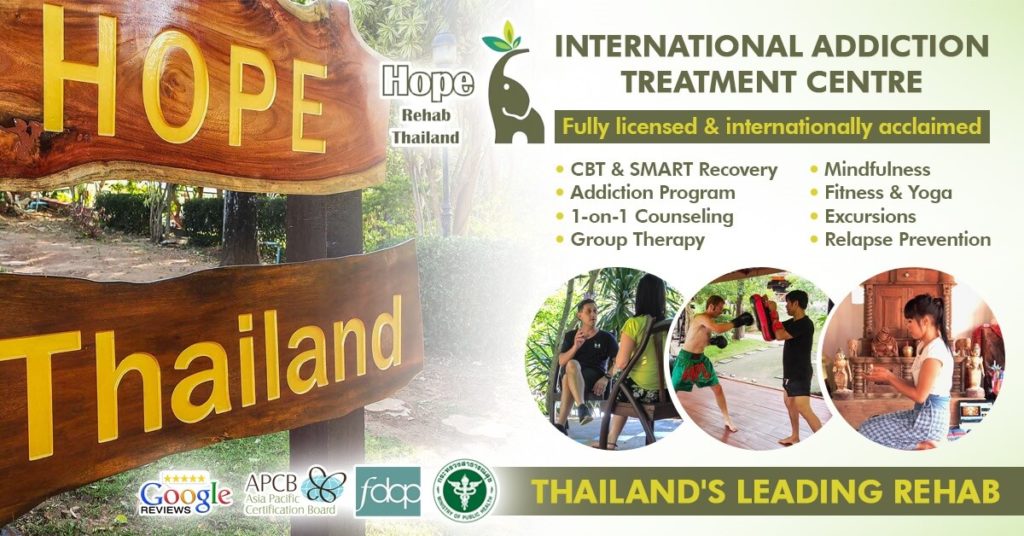 5 Reasons Hope Thailand May be the Best Rehab in the World for You
We keep our community deliberately small so you will have ample time with the therapists and easy access to the other resources you need to recover. Many western rehabs treat as much as 50 clients at a time, but we try to limit our community to around 16 people at a time.
Hope Rehab is located in a perfect location high above the hills overlooking the Sea of Siam. Our rehabilitation facility is in a peaceful residential area well away from the busy tourist spots. The weather is perfect. We have observed the therapeutic environment of our treatment center tends to slow down thinking and encourage a positive outlook on the future.
Our unique recovery coaching program helps you to integrate back in the real world. This involves doing things like visiting shops, markets, tourist spots, and restaurants. By getting you used to doing normal things without drugs and alcohol, it will be less of a shock when you return home.
We offer a comprehensive mindfulness program that provides clients with some powerful tools for their recovery. The Thai people have been using mindfulness practices for hundreds of years, and our unique program incorporates local practices such as mahasati meditation.
We don't just want you to join the community at Hope Rehab Thailand as a temporary guest but as a permanent member of our family. We have a vibrant online community that you will allow you to stay in touch in the years to come.
"Thailand is a wonderful place to recover and live, it is also a spiritual place. Living and working at Hope Rehab has given me a purpose that I am proud to be a part of. As a result our program is a marriage of eastern and western ways. Back in 2013 I Decided not to wait any longer, the time is never perfectly right so I started Hope with 5 clients and Alon. We worked with what we had, and have been building ever since. Now we have one of the biggest and best treatment centres in the world. It is beyond our wildest dreams" Simon Mott
The Hope intern training program – Hundreds of BA, MA and PHD university students train at Hope every year to get live experience working with addicts, alcoholics and clients with mantle health issues.
Other Topics That Might Interest You
Can we be too old for rehab? In this post we examine legitimate age-related concerns while also explaining why it is never too late for second-chances in life.