Are You Struggling to Find a Suitable Rehab in Hong Kong?
If you are looking for a suitable rehab for addiction problems in Hong Kong, you may be finding it a bit of a struggle. Despite being one of the most modern metropolises on the planet, Hong Kong is still somewhat in the dark ages when it comes to providing help for those trying to escape alcohol and drug abuse. It is only by finding a suitable treatment program that provides the right resources and support for breaking free of addiction that gives you a best chance of recovery. Unfortunately, these requirements may be hard to fulfil in Hong Kong.
Why Rehabs in HK May Not be Capable of Providing What You Need
Addiction sucks. If you are unable to overcome this problem, you are likely to experience more and more suffering. Addiction could easily ruin your career, harm your reputation, break up your family, and destroy your health. The only option if you want to break free of this downward spiral is complete abstinence, but this can be hard to do alone.
Being suitably motivated to change is definitely a key component, but finding the right rehab program can make a huge difference when it comes to breaking free of alcohol or drug abuse. An inpatient program can give you the best chance of escaping alcohol or drug abuse, but only if it provides you with the resources and support you need.
The danger of choosing an inappropriate rehab is not only that it can fail to give you what you need, but it can also mean you lose this opportunity to change your life. This could be a tragic waste because there is no telling how many more opportunities you are going to have. You may even become so disillusioned because of an inappropriate treatment program that you lose your motivation to recover forever.
High Demand for Addiction Treatment in Hong Kong
According to the Central Registry for Drug Abuse (CRDA), there were 10,939 people seeking help for drug problems in Hong Kong in 2012. This statistic suggests a downward trend in addiction problems in recent years, but this might not necessarily be the case – it could just be that fewer individuals are coming to the notice of the CRDA. The percentage of Hong Kongers engaging in alcohol abuse is believed to be around 6.8 per cent, and it is likely that a significant number of these will eventually need some type of help in order to quit in a Hong Kong Rehab.
Hong Kong leads the world when it comes to technology, finance, and education. The healthcare services are excellent overall, and this is reflected in the fact that this region has one of the highest life expectancy rates (84.18 for both sexes) in the world. Unfortunately, this reputation for high quality healthcare does not apply when it comes to addiction services where there is a notable lack of options.
The Rehab Situation in Hong Kong
Our Hong Kong clients provide a description of rehabs in Hong Kong that is a bit grim. These are well-educated people who want to make the best choices about their health and well-being, but there just isn't the resources for them back home to do this. They describe rehabs in Hong Kong where the facilities are poor, and the treatments are not evidence-based.
The environment in which a treatment program is provided  can be as important as the treatment itself. If you are uncomfortable in your surroundings, you are likely to be too distracted to fully focus on recovery. This is why we put such an emphasis on providing you with the ideal surroundings here at Hope Rehab Center – you are unlikely to find a similarly therapeutic environment in Hong Kong. It sounds dramatic but choosing the right rehab really could be the difference between life and death. Even if you are a high-functioning alcoholic, or you only have a modest drug habit, you are still at risk of serious consequences. This means your decision to come to rehab in Thailand might just save your life.
Hi Simon and Team, I'm doing very well at the moment. Work is going well, I now have lots of friends in the program and recently started seeing a new girlfriend who is lovely – so all pretty good.
I had a 24 hour relapse 5 months ago but managed to get myself back in the rooms quickly but it still hurt!
Working through my step 9 amends and feeling pretty good about life. I see XXXX in AA meetings and a few of the others from Rehab from time to time. It's now just over a year since a left and I can honestly say it was the best decision of my life and as hard as recovery can be at time, life really is fantastic in a way that it has never been before.
Keep up the great work mate, what you do is not just about saving lives it gives people the chance to live the life they always dreamt about.
Lots of love – A______ HK
If you want the best possible addiction treatment for yourself or a loved one, you will want to consider coming to us here in Thailand. Hope Rehab Center makes use of the most effective treatments, and we are committed to the same quality standards as the best rehabs in the west. The fact that we are based in Thailand means you get to enjoy a luxury rehab environment at an affordable price.
When you arrive at Hope Rehab Center, we are going to sit down with you and together we'll create the treatment plan that provides you with the best chance of recovery. This individualised approach is far more effective than the one-size-fits-all way of doing things used by most of the rehabs in Hong Kong. Some of the treatments you can expect to benefit from during your stay will include cognitive-based therapy, mindfulness training, one-to-one counselling, group therapy, relapse prevention workshops, and health/fitness work.
Thailand is arguably the most ideal location in the world for an addiction treatment centre. Hope Rehab Center is right beside the sea, and our clients get to recover in a secluded and peaceful setting. The Thai people are wonderfully hospitable, and we'll make every effort to make sure you feel at home.
The Rehab Situation in Hong Kong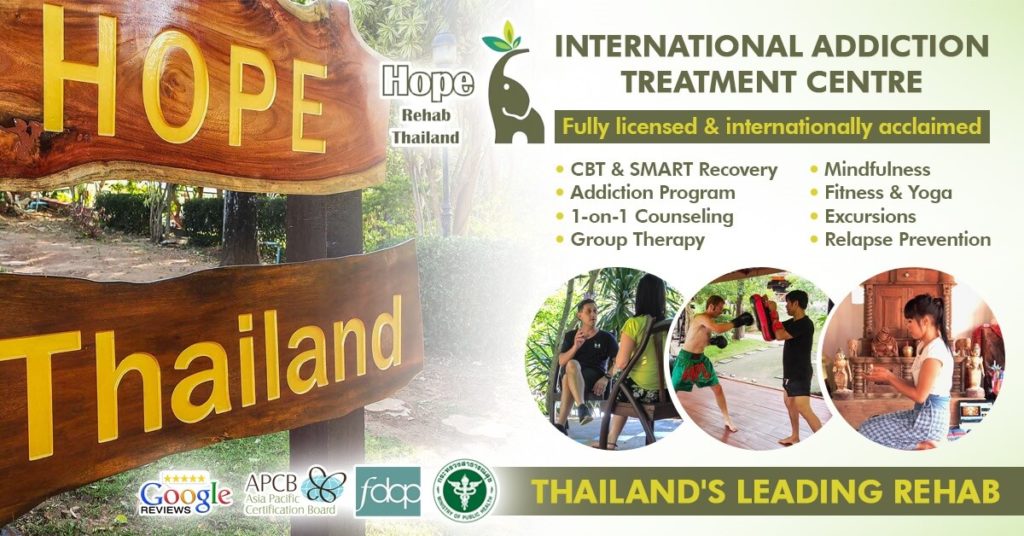 Recently Hope Rehab has partnered with a well respected and established Therapist based in Hong Kong who works within a treatment service in Hong Kong. She also worked with us at Hope Rehab and completed an internship.
Hong Kong Addiction Service
Hope Rehab Thailand is now affiliated with a Hong Kong Addiction Service. Hong Kong based therapists who are addiction counselors. The work within a specialist team based in Hong Kong providing a wide range of therapeutic services and support for locals and visitors to Hong Kong.
In particular they specialize in addiction treatment and works in association with Hope Rehab Thailand. The out patient clinic advices families and clients on the best options available.
List of services:
The two organisations Hope Rehab admires in Hong Kong
The Society for the Aid and Rehabilitation of Drug Abusers (SARDA) is a non-profit organization on Shek Kwu Chau (aka Coffin Island) that offers help to those seeking help for addiction problems.
Jackie Pullinger MBE (born 1944) is a British missionary and founder of St Stephen's Society. Jackie Pullinger work has helped save over 500 drug addicts. The early years of her Hong Kong ministry are described the book Chasing the Dragon.
In 1981, she started a charity called the St Stephen's Society providing rehab and homes for recovering addicts, prostitutes, and gang members. By 2007 it had grown and was providing homes for 200 people.
Other Sources of Support in Hong Kong
An alternative to Rehabs in Hong Kong
One benefit of coming to Hope Rehab in Thailand is that motivation is automatically increased with the stimulation from being on the coast and enjoying the local Thai food and culture.
We offer a therapeutic environment encompassing the natural beauty and rich cultural heritage that is Thailand. Instead of being a mere detoxification factory, or so called luxury Resort rehab, our facility utilizes the best model of addiction treatment possible, with a high level of therapy, fitness and mindfulness in order to address the addictive behavior itself.
Cost is also an important factor when considering Rehabs in Thailand, operating costs here are obviously lower than in the west so we are able to pass the savings on to clients. It costa appox $1000 per day for treatment in the USA compared with about a quarter in Thailand, $7500 at Hope.
Hong Kong Drug rehab provided by Hope Centre in Thailand
We have been accepting and treating clients from Hong Kong for over 5 years now, presenting with a variety of addictions. Call us now for a telephone assessment to confirm we can help you.
To find out more or speak to directly to a counselor about booking place for yourself, a loved one or friend please contact us now.
Other Topics That Might Interest You
Can we be too old for rehab? In this post we examine legitimate age-related concerns while also explaining why it is never too late for second-chances in life.
"*" indicates required fields