Problems You May Face When Looking for Rehabs in Australia
Substance abuse treatment Australia is currently failing many of those who are in desperate need of help. Drug abuse has been described as 'out of control' in cities like Sydney, Perth, and Melbourne. Even more worrying is the that binge drinking is still considered normal behaviour by most adults in the commonwealth. This is all contributing to a situation where an increasing number of people people find themselves struggling with addiction problems.
There is a desperate need for effective substance abuse treatment in Australia, but the resources just aren't available to satisfy this demand. Another criticism we regularly hear from our Australian clients is that there is an  overemphasis of the psychiatric/pharmaceutical model of addiction, and this means that the resources that are available just don't work for many of those who are looking for help
Drug Addiction in Australia
It is believed that one in five Australians (over the age of 14) drink alcohol at a level that puts them in danger of serious mental and physical health consequences (Source: AIHW 2011). On average, four people die every twenty-four hours due to drug overdoses and deaths due to opiate addiction is on the rise and the situation in regards to meth abuse is alarming. The National Drug Strategy continues to focus on strategies for demand reduction, harm reduction, and supply reduction but more needs to be done to help people to escape substance abuse.
We have noticed a significant increase in the number of our clients who are looking for help dealing with prescription drug addiction. This has becoming a huge problem in Australia.  A report in the Herald Sun, couple of years ago claimed there was about 100,000 people dealing with this type of dependency, and this number has only gotten higher since then.
A Closer Look at the Psychiatric/Pharmaceutical Approach to Addiction Treatment
Addiction treatment in Australia tends towards a psychiatric/pharmaceutical approach. This form of treatment may work for some people, but it certainly doesn't work for everyone. For those who want to escape dependency on drugs altogether, it might not feel like much progress to be prescribed even more drugs by psychiatrists. This is not to say that such medications don't have their place, but just using medications as an answer often fails when it comes to long-term treatment.
A common complaint we hear from Australian clients is that they feel like they have been treated like a bunch of symptoms rather than as a person when they went looking for help at home. This medicalization of the problem can leave people feeling powerless and at the mercy of the professionals. It can also mean that they don't feel in control of their own recovery.
Lack of Rehab Options in Australia
The other problem is that too many rehabs in Australia are under pressure due to high demand and lack of resources. Here is what one of our clients had to say about the situation back home:
…treatment in hospital and psychiatric settings, mixed in with clients suffering mental illnesses not relevant to addiction such as schizophrenia, or government-funded treatment with long waiting lists and a client group including often unmotivated court-ordered addicts.
Unless you can afford to pay for an expensive private rehab, you may struggle to find any type of inpatient program ready to accept you. If you do manage to qualify for publicly funded rehab, you will be facing a long waiting list in many parts of the commonwealth (the risk is that your motivation to change evaporates if you have to wait too long for treatment.
The Need for Rehab in Australia
Even after you reach a point where you are ready to admit you have an addiction problem, you may still find it hard to accept that you need assistance to overcome it. Maybe you feel it is too embarrassing to ask for help, or you view it as a sign of weakness? You may even be convinced that your particular problems are not serious enough to require any type of treatment program – sound familiar? This resistance to treatment is common, and it is this subtle form of denial that keeps you trapped in addiction indefinitely.
If quitting alcohol or drugs was all that was needed to recover from addiction, you probably would not need to enter a rehab program (although you could still need a supervised detox). The reality is that stopping the substance abuse isn't actually the real challenge – it is staying stopped that is hard. The benefit of rehab treatment is that it is designed to help you develop a manner of living where you no longer need to use alcohol or drugs in order to cope. These programs also usually involve some form of therapy where the goal is to discover the driving force behind the behaviour and remove it.
Bottom Line – Going it Alone is Too Hard for Many of Us with Addiction Problems
Have you already tried to quit alcohol or drugs by going it alone? How did that work out? You may have been able to stop for a few weeks or months, but for some reason you ended up back where you started. One likely explanation for why this happened is you didn't have the right tools for dealing with sober living, and the same thing might happen if you try to go it alone again. In the 12-step groups they talk about how insanity is doing the same thing over-and-over again and expecting different results each time.
If you have already tried going it alone and failed, it just makes sense that you would now want to consider getting appropriate help and support – for many of us, this is going to mean an inpatient treatment program.
The Danger of Choosing an Inappropriate Recovery Option
We always advise our clients to treat this chance for recovery as if it were there last one because the reality is it could very well be. This willingness to change is a precious commodity, so it needs to be unitised as effectively as possible. It is all about matching this passion to change with the right resources, so choosing an appropriate rehab is vital.
Some clients can be so put off by their experiences of rehabs in Australia that they begin to lose hope of ever being able to overcome their problems. These are people who feel unable to overcome addiction without help, but they feel the help they need is not there. Some of these individuals end up blaming themselves for being stuck when the problem is often that they haven't yet had access to the right resources.
It has mostly likely taken a great deal of suffering for you to reach this point where you feel ready to change. This can be the start of something wonderful, but you need access to the right resources if you want to have the best chance of making this work. You probably already guess entering an addiction treatment center can greatly increase your likelihood of success (otherwise you probably wouldn't be reading this), but you may be disappointed at the available options you find when you go looking for rehabs in Australia.
A large proportion of our clients at Hope Rehab Thailand come from Australia. These are people who just couldn't find appropriate treatment options at home. The reality is that unless you have a lot of money, you may struggle to find an appropriate private rehab in Australia – an addiction facility like The Sanctuary at Byron Bay can cost as much as AU $65,000! The rehabs in the large cities like Sydney, Melbourne, and Perth tend to be overcrowded with therapists struggling to cope with their workload. Our Australia clients also tell us there options at home are discouragingly limited with many facilities treating addicts alongside clients with severe mental health problems – too often this involves a 'one-size fits all' approach.
We don't want to appear overly critical of rehabs in Australia, and it is certainly not all bad, but it is fair to say the current system is not serving every Australian in need of addiction help. This could be your only chance to start again in recovery, and it would terrible outcome if this opportunity was lost. Thankfully, there are alternatives to rehabs in Australia, and the one we want you to consider is Hope Rehab Thailand.
Hope Rehab Thailand Where Amazing Transformations Happen Every Day
It might sound like a bit of a cliché, but the transformations our clients undergo while staying at Hope Rehab are often nothing short of miraculous. People can arrive here in terrible shape, both physically and mentally, yet within a few days there is always a noticeable improvement. It's such a privilege to observe those who have been struggling as they transform into confident and capable people –this path of transformation is something all of our therapists appreciate from personal experience, as we all overcame our own addiction problems.
The reason our rehabilitation program at Hope Rehab is so successful is that we create our program around the individual needs of each client. We make use of evidence-based approaches including CBT, mindfulness, 12-step work, and wellness therapy. Our unique recovery coaching program supports you as you learn to function in the real world without using drugs and alcohol.
Hope Rehab Thailand provides the ideal environment for addiction recovery. Our center is located in an area of great natural beauty overlooking the Gulf of Siam. You will have plenty of work to do if you want to create a strong foundation for your new life, but there will also be time to enjoy the sights, sounds, and smells of Thailand.
Choose Hope Rehab Center Thailand for Addiction Recovery
We offer a holistic approach to recovery here at the Hope Rehab Center, and we treat you like an individual. Our job is to provide you with a therapeutic environment along with the resources you need to take control of your life. We will take the time to find out what you want from sobriety, and we will give you the tools you need to create this future.
We also have fun days out on our local island on the weekends…
Please contact us right away to find out more.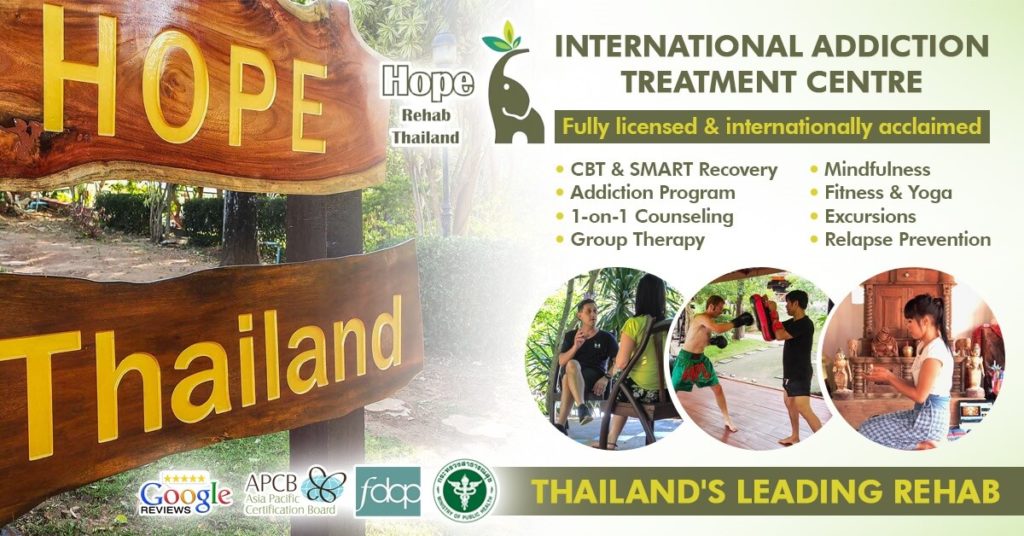 Other Topics That Might Interest You
Can we be too old for rehab? In this post we examine legitimate age-related concerns while also explaining why it is never too late for second-chances in life.