Finding a Suitable Alcohol Rehab in Australia Isn't Always Easy
Are you researching your alcohol rehabs Australia options but feel a bit unimpressed by what you find?  Well, you are not alone in feeling this way. In fact, it is this lack of choice that drives so many of your fellow Australians to join us here at Hope Rehab Center in Thailand.
Entering a rehab program may offer the best chance for recovery from alcoholism, but only if the approach and resources provided are suitable to your needs. Unfortunately, there is not one approach that works for everyone, yet many inpatient programs offer little in the way of alternatives preferring to stick with the 'one-size-fits-all' approach. From what our Australian clients tell us, not only can there be a lack of choice when it comes to rehab programs in Australia but finding any type of treatment can be hard due to a bed shortage.
High Need for Alcohol Treatment in Australia
Twenty per cent of adults in Australia drink alcohol at a level that puts them at high risk of alcoholism (source: Australian Institute of Health and Welfare). Underage drinking is on the rise, and the younger people are when they start drinking, the more likely they are to develop problems later on. There are already millions of Australians dealing with the negative effects of alcohol misuse and many of these are going to need help in order to stop.
Alcohol abuse is not only a source of suffering for the person doing it, but it also impacts society as a whole. Around one third of road deaths in Australia involve people who were driving while they were over the limit (Source: Australian Transport Council). After cigarettes, it is the leading cause of drug-related hospital admissions, and it puts a huge strain on the health care system. Excessive alcohol consumption is also linked to suicide, mental illness, domestic abuse, and lost productivity at work.
A recent article in the Courier Mail summed up the current situation well with the words, "No family in Australia is unaffected by alcohol problems."
Alcohol Rehabs Australia – Bed Shortage
The demand for alcohol treatment in Australia is increasing all the time – a recent report (June 2014) on ABC News claimed this demand is at an unprecedented high. Some rehabs are reporting increases in applications of up to twenty per cent. Rehabs are struggling to cope, and clients are being turned away because there just isn't a bed available for them.
Twenty per cent of adults in Australia drink alcohol at a level that puts them at high risk of alcoholism.
Source: Australian Institute of Health and Welfare
If you, or your loved one, has developed the motivation to quit alcohol, it is important to get help sooner rather than later. The problem with waiting too long to enter rehab is that this motivation can start to fade. This could mean a lost opportunity to change – once the opportunity is lost, there is no guarentee it will ever return. This is why delays in finding treatment is such a concern.
Hi Simon,
Here is my write up on my recovery progress for your website – Hope all is well with you and at Hope.
This year was different – for the first time in my life, I enjoyed a fulfilling, relaxing and remorse-free family holiday and am returning home feeling revitalized and looking forward to going back to work. I have discovered working with you that recovery is so much more than giving up drinking and drugs – it is instead a complete change of lifestyle and outlook on life, not easy but rewarding.
Also I now realize For 35 years or so I was self-medicating with alcohol for a lack of self-confidence and low self-esteem and for the last 10 years of me drinking career I was treating my hangovers and the morning shakes and sweats with ever increasing quantities of Xanax – to the point that I could no longer function; I was depressed, I could not get out of bed and face the world in the morning, I felt desperately lonely and miserable and was making a complete mess of my life.
As you suggested I sought help and support from my local AA group, I read the Big Book and other AA literature daily and attend AA meetings 3 or 4 times a week and I make good use of the after-care resources provided. In short, this time, I am following the simple advice given to me by you and I also practice rigorous honesty – what a difference that makes! I have discovered a wonderful resource in AA and also in the network of ex clients now living sober lifestyles all over the world.
So I want to thank you and the team again on behalf of myself and family for helping me get back my life, keep up the good work. Best wishes Jon
Grateful Hope Client from Australia
Another problem with the lack of alcohol rehabs Australia options is that you can end up just having to settle for what is available rather than what you need. This is far from an ideal situation (read on to find out why).
Australia is one of the most advanced nations on earth, yet the services available for people dealing with problems related to drugs and alcohol just isn't sufficient – this is what clients coming to us from Australia keep telling us. It appears the extent of the current substance abuse problem (e.g. the methamphetamine epidemic) has taken the government by surprise, and the solutions provide so far just aren't adequate. Rehabs in Australia are stretched to breaking point and you may face a long waiting list unless you can afford to pay the huge sums of money required for private facilities like The Sanctuary.
Alcohol Rehabs Australia – How Your Options are Limited
We have found it is those people who are highly motivated to change, and have access to the right resources, who have the best chance of recovery from alcoholism. If you don't get the right type of help, it can mean that the chance to escape addiction can be lost.
Your alcohol rehabs Australia options are limited because there has been too much of an emphasis placed on the psychiatric/pharmaceutical approach to addiction. Many of the treatment programs are offered in a psychiatric setting – this means being treated alongside people with mental health problems like schizophrenia.
It is fairly common for people who fall into addiction to have mental health problems, but this does not mean that a psychiatric environment is always going to be the best solution for recovery. When it comes to your options for alcohol rehabs though, this may be all that is on offer unless you are willing to travel abroad for help.
There is now a mountain of evidence that suggests that a 'one size fits all' approach to alcohol addiction just doesn't work. There does tend to be commonalities when it comes to addictive behaviours, but no two people are going to be dealing with the exact same problems.
The High Cost of Private Alcohol Rehab in Australia
In response to the shortage of government-funded rehab options, those looking for help will often consider the private facilities. The cost of this type of help can come as a shock (e.g. The Sanctuary in Byron Bay charges as much as AUS $65,000). Unless your doing well in life financially, the amount needed to fund private rehab in Australia may be beyond your reach.
Summary of the Challenges Facing Australians Looking for Alcohol Rehab Treatment
Thailand as the Alternative to Limited Alcohol Rehabs Australia Options
If you find an appropriate alcohol treatment program in Australia, that's fantastic, but if you can't, we want you to consider coming to us here in Thailand.
This is your opportunity to transform your life, and you don't have to just settle for what is available in Australia. This could be your last chance to break free of alcohol addiction, so you need to make it work. We have all the resources you need to begin your new life here at Hope Rehab Center.
The treatment path you follow during your time at Hope Rehab Center is going to be individualised to your needs. We offer a holistic approach that treats you like a real person. We are not here to tell you how to live your life, but to provide you with the tools you need to create the life you want.
The therapists at Hope Rehab Thailand all come from western countries, and our program is based on evidence-based treatments (e.g. CBT. 12 Step Work, and wellness therapy) used by the best rehabs in the world. We also make use of some unique local treatments such as Thai mindfulness practices (as part of our comprehensive mindfulness program) and Thai massage.
Hope Rehab Center is situated by the sea in a particularly beautiful part of Thailand. During your stay with us, you'll get to explore the local area including the nearby island of Koh Si Chang. There is also going to be plenty of time to experience the local culture.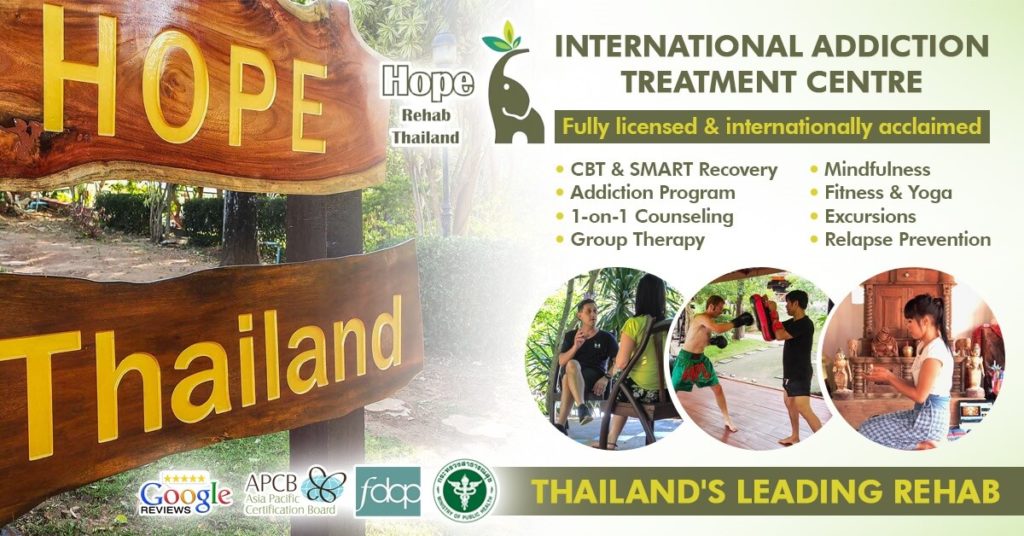 Please contact us now to find out how we can help you overcome an alcohol problem. 
Other Topics That Might Interest You
Can we be too old for rehab? In this post we examine legitimate age-related concerns while also explaining why it is never too late for second-chances in life.