Rehabs in Weston Super Mare – Hope Rehab
The Addiction Rehab Situation in Weston Super Mare
Weston-super-Mare is a much loved seaside resort town, but in recent years, it has also developed a reputation as a national hotspot for drug abuse. Much of the outcry in the media about Weston becoming an 'open ground' for dealing drugs is certainly exaggerated, but there is no doubt that a lot of people in this part of Somerset are suffering due to substance abuse.
The worsening drug situation in Weston-super-Mare is occurring at a time when there has been a significant reduction in available recovery resources – the number of rehab beds available in the town has been cut by half over the last 10 years. This can mean that people who are genuinely trying to escape addiction are unable to find the resources they need to make this a reality.
Some of the currently available addiction recovery resources in this part of North Somerset would include:
• Addaction (this replaces the service formerly provided by North Somerset Alcohol Misuse Service)
• Broadway Lodge Rehab
• Alcoholics Anonymous
• Narcotics Anonymous
• SMART Recovery
• Western Counselling
Obstacles You May Face While Looking for Rehabs in Weston Super Mare
An inpatient rehabilitation programme can offer the best chance of recovery from addiction. Making this type of major life change requires a huge amount of effort, but going to rehab means the individual is in the right environment where he/she will be able to focus completely on recovery.
If you are looking for a rehab in Weston-super-Mare for yourself or a loved one, you may face a number of obstacles. Even if you can afford to pay for a local private facility, you still may need to deal with a long waiting list. It's also important to understand that there is no one rehab programme that works for everyone – i.e. the fact your choice of facility is going to be limited if you just stick to Somerset may mean the available treatment centers are not offering what you need to make this major change.
Those of us who can't afford to pay for private rehab in the UK can be in the most precarious position. Government funding has been reduced drastically in recent years, and this may mean that even though you desperately need an inpatient programme, the money is not there to pay for it.
An Alternative to Rehabs in Weston Super Mare
These days travelling abroad for addiction help is becoming increasingly normal. One good reason for doing this is that it is often much cheaper to go to somewhere like Thailand for treatment than it is to pay for a private rehab in the UK. Your willingness to travel abroad also greatly increases the likelihood that you will find a programme capable of providing exactly what you need.
Here at Hope Rehab Thailand, we offer an international standard rehab program that includes a number of evidenced-based treatments such as mindfulness therapy, cognitive-behavioural therapy, wellness therapy, and 12-step therapy. Contact us now to find out more about what our programme has to offer you.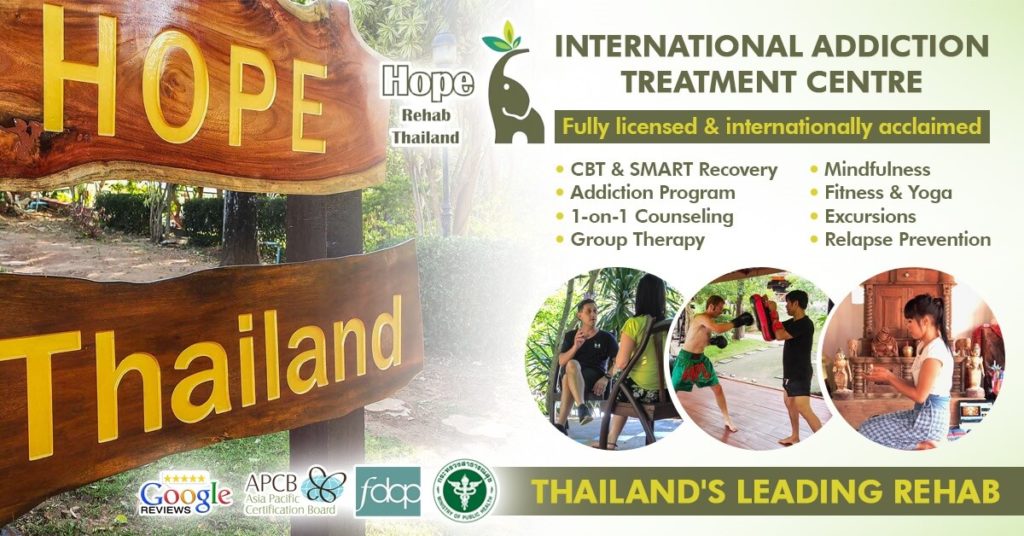 Rehabs in Weston Super Mare, Somerset by Hope Rehab Center Thailand