Are You Looking for an Addiction Treatment Center in Bournemouth?
If you are ready to consider an inpatient rehab programme, you will want to make the most of this motivation to change – there is no telling how long it will last. This is your opportunity to create a better future for yourself, not to mention your loved ones, and staying in the right treatment center will give you the best chance of achieving lasting recovery.
Perhaps you are looking for information about addiction rehab options for a family member or friend? It may appear a bit overwhelming when you first begin looking for recovery resources, but things become much clearer once you eliminate the options that not suitable.
There are a number of rehabs in Bournemouth including:
• Street Scene
• Cornerways
• The Providence Project
• Quinton House
There are also other local services capable of providing help for those of us dealing with addiction problems including:
• Bournemouth Community Addictions Team (BCAT)
• Dorset Drug and Alcohol Service
• Young Adults Drug and Alcohol Services (Poole)
• Alcoholics Anonymous
• Narcotics Anonymous
• Addaction – Trinity Project
Still Having Trouble Finding Rehabs in Bournemouth?
Addiction will be experienced differently by each one of us due to factors such as our personality, our mental health, our physical health, the extent of the abuse, and of course, the substance we are abusing. The uniqueness of your experience of addiction needs to be taken into account when considering treatment. In other words, it is not so much about finding out which is the best rehab in Bournemouth but about finding the best one for you.
One of the challenges you may face when looking for rehabs in Bournemouth is finding an affordable option. Government funded treatment is becoming much harder to qualify for, and it looks as if this situation is only going to worsen in the future. Even though, we hear in the news about parts of Bournemouth, such as Boscombe, being 'swamped by addicts', the funding is not available to tackle addiction problems. This often means our best chance of recovery from addiction is to choose a private rehab
Even with a number of rehabs in the Dorset area, you may still be faced with a waiting list. This is particularly likely to happen if you are being selective about where to go – which you should be. The problem with waiting is you may lose your motivation to quit and you will continue to suffer the consequences of active addiction.
Hope Rehab Thailand is an Alternative to Rehabs in Bournemouth
It may be a bit of a leap to progress from considering rehabs in Bournemouth to choosing a facility in Thailand, but this may offer the best chance of recovery for you or your loved one. Choosing to begin your journey at Hope is usually more cost-effective than treatment in the UK. It will also mean joining a program that offers the best evidenced-based treatments tailored to fit your exact needs.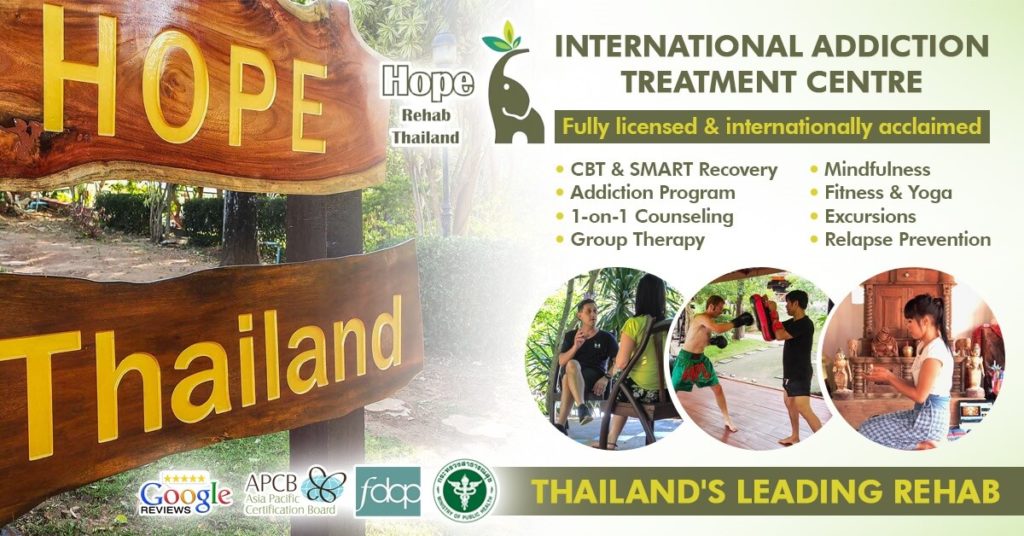 If you would like to hear more about how Hope offers a viable alternative to rehabs in Bournemouth, please contact us for a friendly chat.
Rehabs in Bournemouth by Hope Rehab Center Thailand