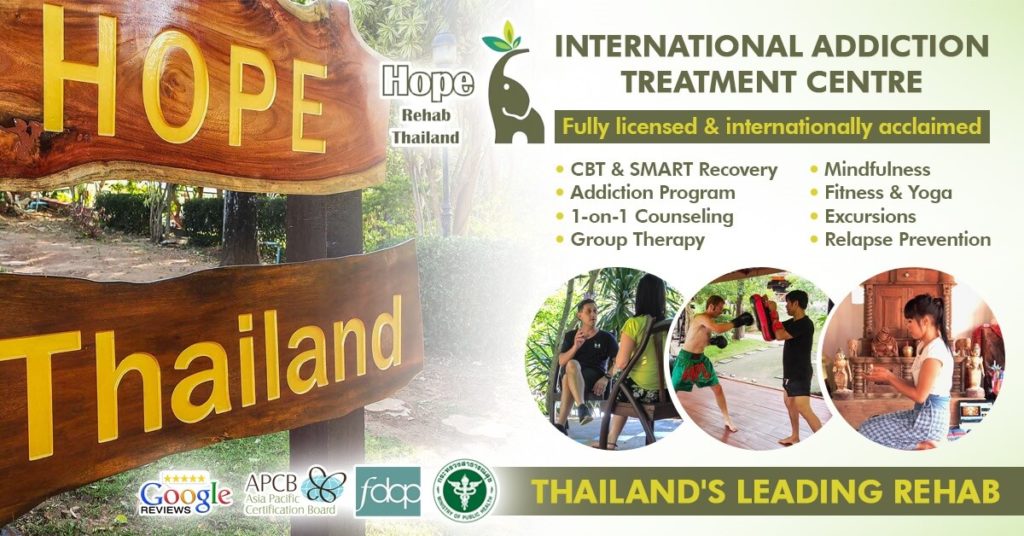 ….And the Winner for Best Rehab in Asia goes to…. Hope Rehab Center Thailand
Okay- so we didn't officially win any award for the best rehab in Asia, but this may be because such an award doesn't exist. If it did, we are confident of being a main contender for this title. This all might sound a bit arrogant, but our confidence is based on our results, and the feedback we get from clients.
Here are just some of the reasons we believe Hope is the best rehab in Asia:
My thirty days in Thailand in treatment working with Simon as my counsellor and the team was incredible: a bright star-month of hope, healing, and happiness against the backdrop of a dark, stormy sky of a drug-addicted life in New York City. Not only did it cost much less, the treatment and experience was overwhelmingly more effective and interesting and special. I received incredibly intelligent addiction therapy, both one-on-one with my counsellor, Simon, and in the group sessions, that were compelling, powerful, and educational
Cat Marnell New York
A clients experience – Best Rehab in Asia
A bit about myself…I'm from malaysia 33 years old now staying in Thailand mainly just doing my recovery. I got 8 months 23 days (268 days) clean and sober now, wow, never think I will do it.
I think that as an addict and alcoholic we in Malaysia anyway we find it impossible to find the right help… I did not get the help I heeded until I came to Hope. I'm still addict and alcoholic I doing my recovery for my rest of life. As long as i don't pick up drugs or drink, go meeting regularly, do my steps work, keep in touch with my sponsor and do service work then I will be fine. always think of "1 day at the time" now.
I think that Hope is e great project, its good to have more rehabs in Asia, no matter how big or small your rehab as long as can help addicts and alcoholic are still suffer. You really helped me Simon and give me chances so I am always greatful to you and look forward to seeing your new place. Best luck to you and Alon for future and all people you will help. T____ Malaysia
We Treat You like a Person
Individualised care' has become a bit of a buzzword in the world of addiction treatment, but the reality is too many rehabs only pay lip service to this idea. It isn't that these rehabilitation facilities are being deliberately deceitful – it's just difficult to provide this type of focused attention in rehabs that treat fifty or more clients at a time. Here at Hope rehab, we keep our community deliberately small (usually only 16 clients at a time), and this means you get the attention required for us to be able to deliver legitimate individualized care making us the Best Rehab in Asia.
We Are Committed to Evidence-Based Treatment
Our commitment at Hope Rehab is to offering our clients tools and approaches that have a proven record of success. We are always open to new ideas, and the core of our program is based around mindfulness therapy, CBT, wellness therapy, and 12 step work. We see on a daily basis how these treatments transform the lives of our clients, and these approaches are backed by an impressive wealth of research.
Our Therapists Understand Where You Are Coming From
The majority of our therapists have a personal history of drug addiction, and the founder of Hope Rehab (Simon Mott) is in recovery from heroin addiction. This means you are entering an environment where you are surrounded by people who can appreciate where you are coming from and appreciate what you are up against. It is relatively easy to do a course and learn about addiction theory but our therapists can also use insights from their own history to guide you.
We Provide a Wonderful Environment for Recovery
One thing that definitely makes us the best rehab in Asia is the location of our facility. Our treatment center is situated high on a hill overlooking the Gulf of Siam in a quiet residential area – we are well away from the main tourist areas. You should find that your thoughts begin to slow down in this peaceful environment, and our location has a noticeable therapeutic effect.
A Wonderfully Supportive Environment
Our clients come from many different countries and backgrounds, yet we all manage to get along really well. This is because we share a common purpose, and we understand that supporting each other can help us reach our individual goals. Given up drugs and alcohol can be incredibly hard if you are facing it alone, but you don't have to face it alone.
Thailand is a wonderful place to recover and live, it is also a spiritual place. Living and working at Hope Rehab has given me a purpose that I am proud to be a part of. As a result our program is a marriage of eastern and western ways. Back in 2013 I Decided not to wait any longer, the time is never perfectly right so I started Hope with 5 clients and Alon. We worked with what we had, and have been building ever since. Now we have one of the biggest and best treatment centres in the world. It is beyond our wildest dreams
If you want to find out more about what makes us the best rehab in Asia, please contact us now to find out how we can help you.
The Hope intern training program – Hundreds of BA, MA and PHD university students train at Hope every year to get live experience working with addicts, alcoholics and clients with mantle health issues.
Other Topics That Might Interest You
Can we be too old for rehab? In this post we examine legitimate age-related concerns while also explaining why it is never too late for second-chances in life.